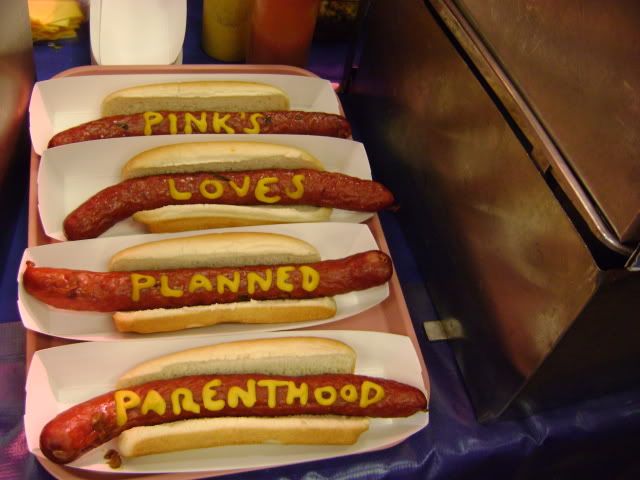 Living in East Los Angeles for the later half of my life, I've seen a lot of my friends unexpectedly become baby daddies. At the same time, I have also seen a lot of my friends benefit from the free services at Planned Parenthood and not become baby daddies. It sucks that current conservative politicians want to cut funding to the organization because they say that no tax money should go to an organization that "perform abortions." Although, by law, federal funding can not be allocated for abortions. Planned Parenthood sources its funding for abortions by private donors such as The Justice Fund and The Abortion Fund (as stated on their website).
With this nonsense controversy, such event is an important fundraiser for this organization. Join some of the best restaurants in L.A. support this cause too.
(taken from PPLA Food Fare 2012 press release)
More than 150 of Los Angeles' best restaurants, caterers, wineries, florists and entertainers will gather at the Santa Monica Civic Auditorium on Thursday, March 8th for Planned Parenthood Los Angeles' (PPLA) renowned annual Food Fare event.
What began in 1979 with a cooking demonstration by Julia Child, has become the oldest and most celebrated
culinary event in Los Angeles. Food Fare 2012 offers guests a rare opportunity to sample the finest food and drink
the city has to offer, all in one place. Some of the participating restaurants include: A.O.C., Ammo, Waterloo and
City, Angelini Osteria, Church and State, Salt's Cure, Drago Central, Clementine, Public Kitchen and Bar, Tavern, Craft and Lucques as well as some of the city's most popular Food Trucks, including The Border Grill Truck and The Grilled Cheese Truck. Food Fare is an opportunity for food-lovers, Planned Parenthood supporters and the general public to sample the finest food and drink that L.A. has to offer, all in one place.
Food Fare will also feature a raffle, wine, online and live auction with items ranging from dream vacations to Paris and Telluride to unique entertainment experiences, plus much more.
For the third year, Food Fare is honoring one of its participating chefs as Planned Parenthood's Chef of the
Year. This year, PPLA is pleased to announce Suzanne Goin, chef and owner of AOC, Lucques and Tavern as
PPLA's Chef of the Year. "It is truly an honor to be named as Chef of the Year! Planned Parenthood provides an
invaluable service to the people of Los Angeles and I am so proud to once again be part of this wonderful event", said Suzanne Goin.
In addition to gourmet delectables and unique offerings at Food Fare, fantastic libations participants like The Beer
Chicks' Beer Garden hosted by Beer Sommeliers Christina Perozzi & Hallie Beaune, Rosenthal Vineyards and
Summerland Winery will be pouring their latest bottles. VeeV Açai Spirit and Champagne Piper Heidsieck will also
be pouring as the exclusive VIP spirit and champagne sponsors. In addition, Food Fare attendees will find an
astounding array of culinary gifts, home accessories, jewelry, handbags, cashmere wraps, throws, and pillows all for purchase, many of which cannot be found in traditional stores.
In honor of Food Fare 2012, Velvet by Graham and Spencer has created three limited edition tee shirts
(available in women's, men's, and kid's sizes) that feature a custom design utilizing the Planned Parenthood slogan, "Love Carefully," and will be sold exclusively at the event. "It's an honor to be part of such an important cause as Planned Parenthood," said Velvet designers, Jenny Graham and Toni Spencer, "We hope the design we created will bring in much needed support for an organization that helps so many."
Advanced tickets for Food Fare are $150 for the daytime session (10:30 am to 2:00 pm) and $225 for the evening
session (6:30 pm to 9:30 pm). Tickets are available for sale online at www.pplafoodfare.com or by calling
(213) 284-3316. Tickets can also be purchased at the door, the day of the event for $175 for the daytime session
and $250 for the evening session. For additional information about the event and sponsorship opportunities, please visit www.pplafoodfare.com. Follow us on twitter at www.twitter.com/PPLA_FOODFARE or become a fan of the PPLA Food Fare fan page on Facebook.
Food Fare is produced by the Planned Parenthood Guild, a group of 200 women dedicated to providing financial and volunteer support for Planned Parenthood of Los Angeles (PPLA). Planned Parenthood Los Angeles' 18 health
centers provide care to over 120,000 women, men, and teens each year. Over 93% of the care Planned Parenthood
provides is preventative, including life-saving cancer screenings, birth control, annual exams, and STD testing and
treatment.

Check out my coverage of the event back in 2009 to see what's up!
I know the price for this food event is kinda high but if you could spare the cash and have time then come down. I you can't make it, feel free to donate to them here.